Chalcedony for Spring & Moonstone May's Gemstone

This month is chalcedony beads and May's birthstone moonstone. Scroll down, or click one of the links below on the html version to go to a section. NOTE: Due to shows, orders between 26th April to 3rd May will be delayed.
UK customers can see us at our British bead fairs during May, starting 29th April 2012 at Beads Up North, at Haydock Race Course, WA12 0HQ - for details click
here
. The following week we will be at Edinburgh Corn Exchange on 6th May.
Follow Nigel on Twitter: nigel@nigelmckay & nigel@UKMrBead
For the bead store click MrBead.com or MrBead.co.uk

If you weren't mailed this newsletter enter your e-mail address here to receive next month's newsletter

Chalcedony for Spring Jewelry
Magical Moonstone
Opalite Moonstone
Free Shipping
Chalcedony - A Graceful Stone for Spring Jewelry!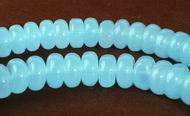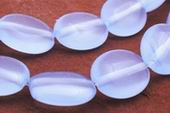 Chalcedony is an excellent gemstone to use for graceful spring jewelry. Its delicate, silky light-blue color reminds of early morning mountain sky. If you design handcrafts, try making matching chalcedony earrings and a bracelet. Use small beads with subtle silver spacers for style. Sell them in a white or light-blue box.


Romance


Chalcedony is ideal for the lady you love or to use on wedding jewelry. Some people even use chalcedony wedding rings. Set in white gold or silver, it creates just the right look.


What is chalcedony?


Its name is said to come from an ancient Greek town called Chalkedon, now in Turkey. It is a fine-grained variety of quartz with a waxy luster and microscopic compressed crystals. Because of this structure, chalcedony is usually semi-opaque - which creates a soft glow as the light diffuses through the stone, ideal for graceful jewelry.

The Romans made seals from chalcedony, and the stone has been carved into ornaments for thousands of years. And in the past its heavenly blue color explains why it had been called Mecca stone and St Stephen's stone.

Color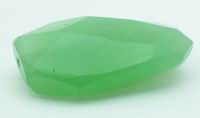 Chalcedony comes in every color, but for jewelry it's usually light milky blue with a hint of pink. Being porous, it's been dyed blue and pale minty-green for centuries - and today sometimes its color enhanced to emerald green and even tangerine and peachy pink.

Formation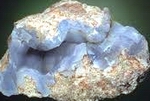 Chalcedony is formed in volcanic rock cavities where silica-rich water flows through. Traces of iron oxide in the water create the pinkish and sometimes red color.

The gemstone can be seen in the Arizona Desert, where petrified trees have formed from chalcedony replacing the ancient forest. Native Americas there called the stone sacred as they believed it brought stability to the tribe.

Properties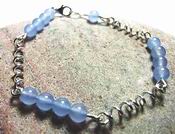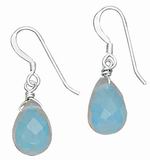 Chalcedony is a feminine stone, full of yin energy. Said to balance the emotions, bring stamina, and promote kindness and charity. It is also believed to be good for love as it lowers anger, depression and melancholy. The gemstone also absorbs negative energy and promotes a feeling of enthusiasm. It is also believed to lower blood pressure with its anti-inflammatory properties and heal the lungs, so being good for smokers.

History
Because there is so much chalcedony in many countries, it has been carved into arrowheads, tools, knives, cups and bowls for tens-of-thousands of years. Years ago sailors wore it as a talisman, and it is the birthstone for those born under the star sign of Sagittarius.

Source
The best chalcedony is mined in Chalcedony are from India and Madagascar, but it can also be found natural all over the US, plus in Burma, Brazil and Mexico.





For our chalcedony beads go to MrBead.com or MrBead.co.uk

Magical Moonstone: May's gemstone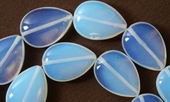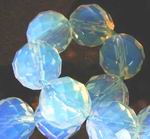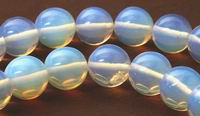 Moonstone is nature's treasure with a sensuous and seductive charm. The characteristic feature is its magical play of light. Moonstone is translucent, and softens the light shining through it to give a pearly moon-like glow which appears different whenever the stone changes position. Years ago, it was thought to be brought upon by the moon's phases. This shimmering affect is caused by light being refracted inside the stone.
Colors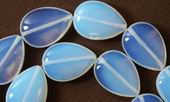 Moonstone comes in colorless, white, grey, and subtle yellow, but always has a blue or white sheen. Rainbow moonstone is colorless with a blue sheen and a rainbow-like array of colors.
Moonstone folklore


Much mystery surrounds this stone. In India it's considered sacred to lovers, and is also known as a "dream stone" bringing beautiful dreams. In Arab countries women often were moonstone sewn into their garment as a symbol of fertility. It was also believed to be especially protective to seafarers, who have been using it since ancient times. During full-moon, moonstone is very powerful for reconciling love - and as the moon decreases, is said to allow one to foretell the future.

A feminine stone for female issues and the inner-child, but also used by men who want to reach their feminine side. Moonstone brings confidence, calms the emotions, and aids spirituality, intuition, and clairvoyance. Also thought to protect against fever, fluid-retention and urinary problems. Its soft shine supports the emotional and dreamy side of a person. Wearing moonstone will also increase your sensitivity for others.

Natural moonstone


Classical moonstone from Sri Lanka shimmers pale blue and is expensive. Moonstone from India has a cloud-like plays of light on beige, brown, green, or orange backgrounds – and some have a cat's eye or a multi-rayed star.
Uncut moonstone is dull and lacks the play of light. This is brought out by the cutter's skills, who must locate the stone's axis. Classical moonstones are always cut as cabochons.

Value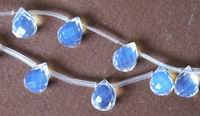 The more intense the color, the larger and more transparent the stone, the more valuable is the gem. Really top quality fine blue moonstone shows an incredible "three-dimensional" depth of color, which you will see clearly only when tilting. Such specimens are rare and expensive. Brighter colored Indian moonstones are usually less expensive, so are opalite moonstone.

Opalite moonstone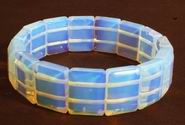 Opalite moonstone is most common today. This is a synthetic stone looking similar to genuine moonstone, that's only been around recently. Against a light background, it appears milky white, shimmering golden faint lilac-blue and other colors. Against a darker background, it changes to a bright icy blue with the highlights altering to intense oranges and reds. The stone practically glows on its own, and demands attention by outshining all around.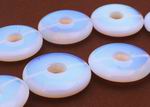 Opalite moonstone adds a romantic feminine allure to your jewelry, always looking refreshingly cool - ideal for summer. Its pastel glow is soft and captivating, complimenting other light-colored stones like lilac amethyst, blue chalcedony, and rose quartz. It also loves to compete with wild bright colors like reds and turquoise. This flamboyance makes opalite ideal to wear during a night out on the town.
Looking after moonstone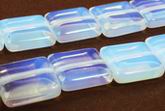 All moonstone is fragile and should be handled carefully. However, a jeweler can polish a dulled moonstone back to its original glory.

To see all our Moonstone click MrBead.com or MrBead.co.uk To Top of Page

See us in the UK for a Free Gift!

After being shut away in a little office reading and sending e-mails, we love to see customers!

Visit us in the UK and say you're a MrBead Newsletter reader, and we'll give you a free gift!

Sunday 29th April 2012 - Beads up North! Haydock Race Course, Newton-le-Willows WA12 0HQ
Sunday 6th May 2012 - Edinburgh Bead Fair - Corn Exchange, Edinburgh, EH14 1RJ
Saturday 12th May 2012 - The Luton MrBead Bead Show - Stockwood Hotel, Stockwood Crescent, Luton, LU1 3SS
Sunday 13th May 2012 - Norwich MrBead Bead Show with The Bead Queen - George Hotel, Arlington Lane, Norwich, NR2 2DA
Sunday 20th May 2012 - Cheshire Bead Fair - Nantwich Civic Hall, CW5 5DG
Sunday 3rd June 2012 - Lakeland Bead Fair is cancelled.



For details of all our 2012 bead fairs click here.


Many new beads this month: MrBead or MrBead.co.uk
Read all our old newsletters here

Free Shipping!
To sample our beads with free shipping, key in "calcedony" at the checkout (without the inverted commas) and click "Redeem Coupon". Note: there won't be a free shipping voucher in May as we are busy with bead shows.

Offer valid until Tuesday 25th April 2012 only - so act now! Only for use in our stores below at the checkout and not valid with any other offers or eBay.

To go to the store click MrBead.com or MrBead.co.uk To Top of Page

"Ultimate guide revealing proven steps to successfully sell beaded jewelry"

MrBead newsletter readers can purchase our new just-published book at a 33% discount. NOTE: ignore the price on the sales page - click the Buy Now button and you will see your 33% discount at the Paypal checkout ($19.99 or £12.99). Paypal only for this offer. On Paypal's confirmation of payment page, click "IMPORTANT: click here to download your product". You will also be e-mailed your download URL.

This e-book is sold to you with 100% satisfaction - otherwise you get a full refund within 60 days!
To order or for more details click US Version or UK Version.

To return to the top of this page click here