For our bead shop click
MrBead.co.uk
or
MrBead.com
15% Off Anything From MrBead!
For 15% off anything from our bead store enter CARNELIAN in the box at checkout
and click "Redeem Coupon"
.
Use NOW - as expires Friday 7th August 2015. No minimum order, but can only for used at
MrBead.com
or
MrBead.co.uk
and cannot be used with any other discount or eBay.
This year we have 19 bead fairs booked in the UK, with 12 to go. All seven shows so far have been good:
Newton Abbot Gem 'n' Bead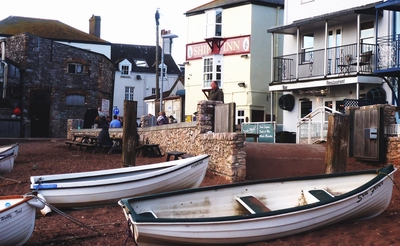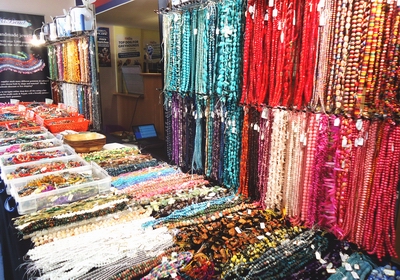 A good attendance, although slightly less than in October. Many more bead sellers than rock sellers: a moving trend at these fairs.
Enjoy a weekend in Devon and head West to see us at Newton Abbot in September 24th and 25th. I'll be staying at the beautiful little town of Teignmouth again to enjoy a beachside beer at the Ship Inn - only 5-miles from the show.
Norwich Bead Show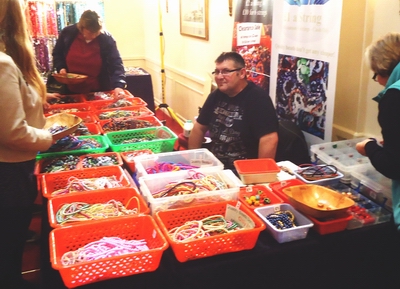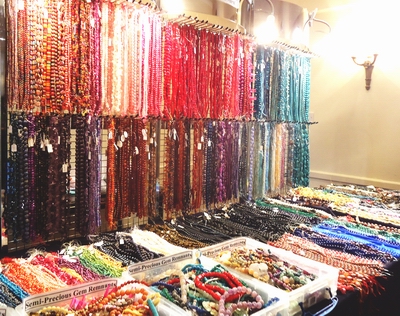 Busy as always with our regulars from all over East Anglia, along with a few new comers. Visit us again on Sunday 11th October in the fine City of Norwich. All the London shops are there, and open on Sunday too.
Head East for the whole weekend and explore the Norfolk Broads as well as the City. My riverside Wroxham cottage is still free (at time of writing) for this date: http://www.37peninsulacottage.co.uk/services.htm - beaders staying there get a special gift!
Beads Up North! Haydock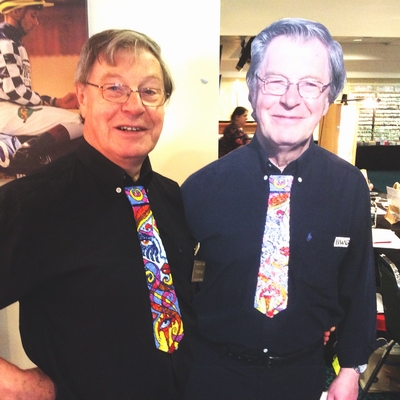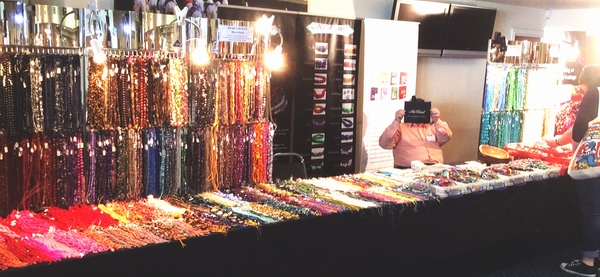 There's something about this fair I love. Maybe the location, maybe the time of year, or maybe it's just Gordon chatting everywhere with his unhurried friendly style. Lot of people visiting and busy the whole of the day. Can you tell which one is the real Gordon?
Luton Bead Show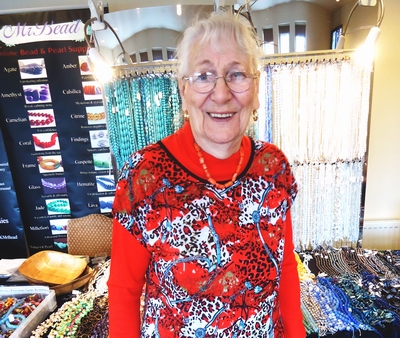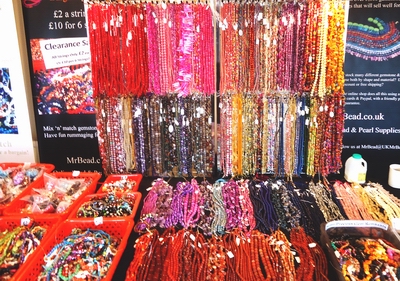 Great location only half an hour from London and 5-minutes from M1 junction 10. Busy to start in this bright little hall with huge windows all along one side. Many visitors this time from Bedford, Milton Keynes, and the surrounding villages. Picture is Nigel's Mum age 84: the power of beads!
Call to visit us again on Saturday 3rd October.
Wincanton Gem 'n' Bead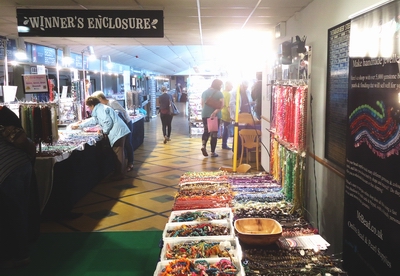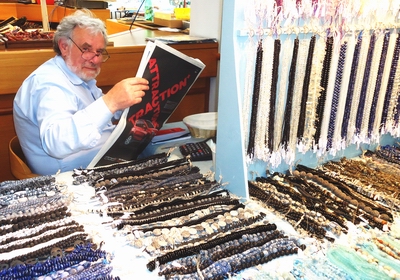 Mostly bead sellers at this beautiful little town with great pubs. Fantastic weather and cider enjoyed with Sarah and Michael of Bead Buyer - shame we had to drive!
Only problem with this fair is getting there Friday to setup - traffic on the M25 and A303 was similar to Central New Delhi. You would think the British Government would give less away and spend more on roads than missiles. Nice to be in the Winner's Enclosure!
Cheshire Bead Fair, Nantwich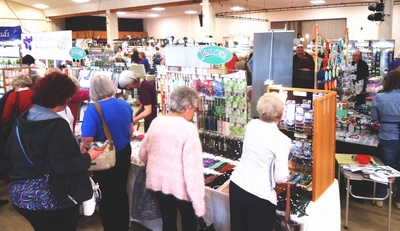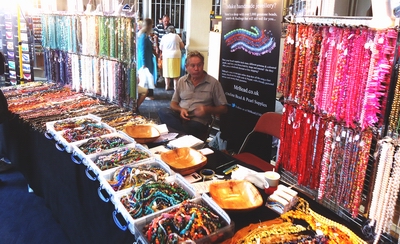 We've been attending this great fair for over 8-years, and we always do well. Many visitors, who are surprisingly more-affluent than neighboring Staffordshire. This fair has a lot of sellers, so if you have never been before, its well worth a visit.
Again, stay the weekend and explore the nearby cannels. I found a B&B in Crew cheaper to stay than a Travel Lodge. Shame, no time for breakfast!
Kentish Town Bead Show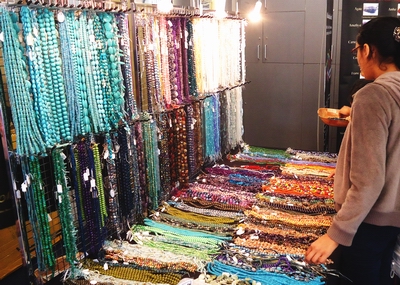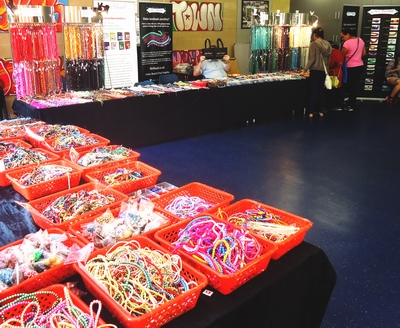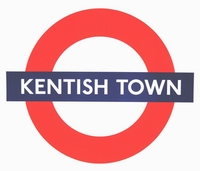 Busy for our first time at Kentish Town. Visitors from all over London, many who stayed for a few hours after riding on the little underground trains there. Great airy location, with free weekend parking and close to Kentish Town Station.
If you're in London or the East of England, visit us here on Saturday 26th September. If any bead sellers would like to join us then for a couple of free tables, e-mail Nigel. However, there is only 2-hours to setup.
See Us Today at Kempton Park London.
MrBead Autumn UK Bead Fairs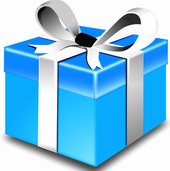 Visit us in London at Kempton Park on Saturday 1st or Sunday 2nd August, or latter in the UK this summer. Say you're a MrBead Newsletter reader and receive a free gift and a gold & black MrBead bag!
| | | | | | |
| --- | --- | --- | --- | --- | --- |
| Date | Name | Venue | Address | Time | Details |
| | | | | | |
| --- | --- | --- | --- | --- | --- |
| Sat & Sun 1st & 2nd August | Kempton Park Gem 'n' Bead Fair | Kempton Park Racecourse | Staines Road East, London TW16 5AQ | 10am to 5pm Sat 10am to 4pm Sun | Click |
Full list of: our 2015 UK Bead Fairs
See a video of some of our past bead fairs
Best Independent List of UK Bead Fairs
Peridot: The Cooling Gemstone For August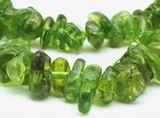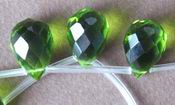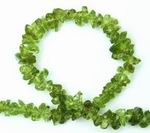 Just the name Peridot sounds summer cooling, and its vivid, shimmering aqua-green colour is the ideal gemstone to complement a light summertime outfit. Peridot goes so well with any light colour, blending subtly to add interest to a design.
Peridot (pronounced pair-a-doe) is the gem variety of olivine, a mineral formed under intense heat. Perhaps named from the French word Peridot, meaning unclear, due to its inclusions and cloudy nature.
Small crystals of peridot are often found in rocks by volcanoes and in meteors. Because the iron which creates the colour is an integral part of its structure, its colour is always green - ranging from transparent lime to olive green. One of the few gemstones of only in one colour.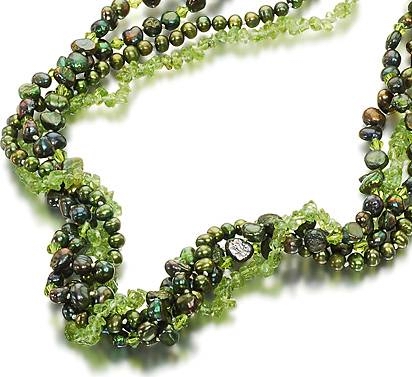 Peridot has been mined as a gemstone for thousands of years, said to be the favorite gem of Cleopatra, and mentioned in the Bible. In ancient Egypt it was mined at night because legend tells that peridot was hard to see during the day, yet easily visible by lamplight. The Greeks and Romans called peridot Topazion and Topazius - the later named topaz, to end the confusion between the two. Peridot has also been confused with emerald and many jewelers refer to it as "evening emerald". Peridot was later used to decorate medieval churches, carried back to Europe by the Crusaders, like the huge stones of more than 200 carats in size at Cologne Cathedral.
The gemstone is actually known under three names: Peridot, Chrysolith (derived from the Greek word Goldstone and Olivin, because Peridot is the gemstone variety of the Olivin mineral. In the gemstone trade it is generally called Peridot, a name derived from the Greek Peridona, meaning something like giving plenty.
Peridot is recommended for insomnia, digestive problems and to stimulate the mind. Some say peridot has the power to drive away evil spirits, intensified when the stone is set in gold. And its also said to strengthen the power of any medicine drunk from peridot goblets. Peridot is for people with the star sign of Leo.
Peridot & Pearl Necklace
Peridot & pearl so so well together - teardrops of the moon goddess! This necklace is to inspire what can be done using a combination of different stones. Blue pearls with vivid green peridot make a striking fresh combination to cool you from the summer heat. Clusters of pale-blue 7mm rice pearls are wrapped with 4mm peridot beads producing this 16" -18" long necklace with a lobster clasp.

To see all or peridot beads click MrBead.com or MrBead.co.uk
Carnelian - another gemstone for August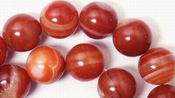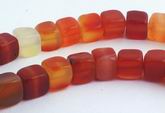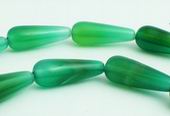 This flesh-coloured stone comes from the quartz family, and is usually bright orange to reddish orange, translucent to clear. However, it can be other colours like green or yellow. Carnelian has brought many ancient beliefs, like protection during travel after death and against evil. It is also believed to combat bad tempers. The name comes from the Latin word "Carnis" meaning flesh. The Roman thought that the darker Carnelian represented males and the lighter, females. Many believe that it creates a bond with man and nature.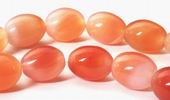 Carnelian is for confidence. Said to help blood disorders and eliminate toxins from the body. Carnelian is in tune with the energies of the Earth, making you feel comfortable with your environment. Allowing you to pause and reflect, while feeling settled and more secure. Carnelian stimulates the reproductive organs too; hence its long use as a fertility symbol. It is also said to help creativity and have a clearing effect, replacing negative energy with positive. Making it easier to find direction and feel in control of your life.
A good stone for people starting new projects or who feel they are going nowhere. It motivates, allowing you to find the energy to make the most out of life. Carnelian is best for people with the zodiac sign of Leo, and for those born on a Friday.
See Our Carnelian Beads at MrBead.co.uk or MrBead.com
Summer's Here! top


See Our Summer Bead Category at MrBead.com or MrBead.co.uk

15% Off Anything From MrBead!
For 15% off anything from our bead store enter CARNELIAN in the box at checkout
and click "Redeem Coupon"
.
Use NOW - as expires Friday 7th August 2015. No minimum order, but can only for used at
MrBead.com
or
MrBead.co.uk
and cannot be used with any other discount or eBay.