Year of the Dragon, Valentine's Day and Amethyst Beads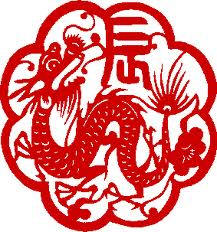 Kung Hei Fat Choy
- Happy New Year!

To go to our bead store click MrBead.com or MrBead.co.uk. Scroll down or click one of the links below.
For your lucky New Year Jade Dragon pendant click MrBead.com or MrBead.co.uk

Year of the Dragon
Valantine's Day
Amethyst for February - The Royal Popestone
How to make an Amethyst Necklace
Free Shipping Offer!
How to Make a Killing Selling Bead Jewelry

Chinese New Year




MrBead is based in Hong Kong, where the main annual holiday is Chinese New Year. Called "Spring Festival" in Mainland China. Lion dancers and carnivals take to the streets and fireworks to the skies.

In Mainland China many people work inside large prosperous cities in the South East, a long way from their poor native village homes. Over Spring Festival hundreds-of-millions commute back to their village to be with the family. It's always a big strain on the railway and airways, and often made worse by severe snow cutting off power lines and runways!
Happy Year of the Dragon – 2012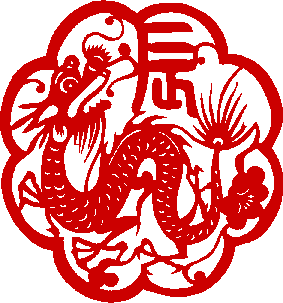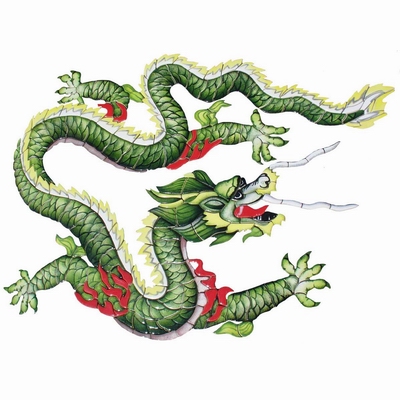 The Year of the Water Dragon began on 23rd January 2012. The dragon is a lucky sign, the fifth of the 12 animals in the Chinese Zodiac. The Chinese dragon is a much more loving creature than the Western dragon – blessed with supernatural power, fortune, and understanding.
Eastern philosophy regards the dragon positively, the supreme beast, fearless, wise and master over all - the dragon represented the emperor. People born under this sign gain power and respect, which is why it is the most popular Chinese zodiac sign attracting an increased birth rate in oriental countries.

Predictions
Dragon years usually bring large happenings, either good or bad - an abundance of yang energy. However, they are positive for finance, and the water dragon acts more considerately then his fellow dragons. This means the usual dragon disasters will be less likely. The dragon's obstinate ego will bring power and bold ambition to 2012, making it a good time to start a business or get married. Dragons like to spend money.
Best and Worst Month's
Best months in this dragon year are: January, February, July, August and November – and the worst are will be September and December. Generally, people who take chances and are ambitious will benefit in a Dragon Year.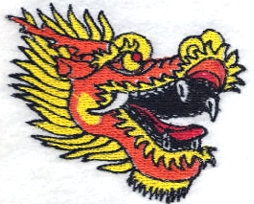 Dragon People
People born in the Year of the Dragon are extrovert, brave, quick-tempered, generous, honest and passionate. They prefer being on their own and doing things independently. Their excellent entrepreneurial skills make them successful businesspeople, as well as good inventors, lawyers and salespersons. Dragon's energy, competitiveness and determination usually allow them to achieve near the top of their profession.
Dragon Relationships
Dragons have a deep sincere heart and will give in to love despite their independence, but a thick-skin is needed in their partner to take their quick temper. The best relationships are with either a monkey or a rat – the least compatible being the ox or goat.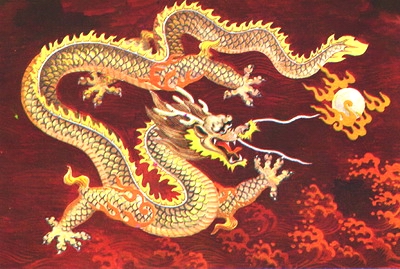 Dragon Years
If you were born in any of these years, then you are a Dragon: 1916 * 1928 * 1940 * 1952 * 1964 * 1976 * 1988 * 2000 * 2012
Famous Dragon People
Bruce Lee, Julius Caesar, John Lennon, Joan of Arc, Florence Nightingale, Sigmund Freud, Martin Luther King Jr, Mae West, Colin Farrell, Bob Monkhouse
Western Counterpart: Aries

To purchase a lucky Chinese jade dragon pendant or to read of the other 11 animals in the Chinese zodiac, click MrBead.com or MrBead.co.uk to top

Valentine's Day
Valentine's Day is the first of the seasonal celebrations.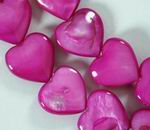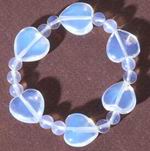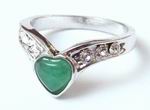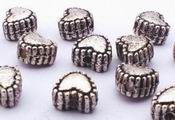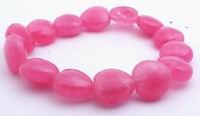 There are lot of gifts you can make for Valentine's Day
Necklaces

Heart bracelets or anklets

Charm bracelets

Matching sets with earrings

Beaded purses and bags

Heart cell phone pendants
Make anything personal, using heart beads, and red and pink pastel colors.
For our heart shaped beads click MrBead.com or MrBead.co.uk

Amethyst: The Royal Purple Pope Stone





What is Amethyst?
Amethyst is the gemstone for February, and for those born under the zodiac of Pisces. Amethyst is known as the Royal Purple Pope Stone, the purple variety of quartz. If it wasn't so abundant, amethyst would be very expensive. Its name comes from the Greek, meaning not drunken. Perhaps due to a belief that amethyst would sober the effects of alcohol.

Amethyst is always purple, but comes in shades of pale lilac to deep purple. Deeper colors are more valuable - milky amethyst is the cheapest. Amethyst is mined in South American, but the best in Africa. Very dark amethyst, mostly in small sizes, also comes from Australia.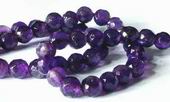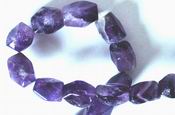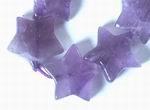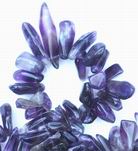 Mythology
According to Greek mythology, Dionysus, the God of Intoxication was angered by an insult from a mere mortal and swore revenge on the next mortal that crossed his path, creating fierce tigers to carry out his wish. Along came unsuspecting Amethyst, a beautiful young maiden on her way to pay tribute to the goddess Diana. Diana turned Amethyst into a statue of pure crystalline quartz to protect her from the brutal claws. Dionysus wept tears of wine in remorse for his action at the sight of the beautiful statue. The god's tears stained the quartz purple, creating the gem we know today!



The Church & Crown
Purple has long been considered a royal color, featured in the British Crown Jewels and a favorite of ancient Egyptian royalty. Leonardo Da Vinci wrote that "amethyst could dissipate evil thoughts and accelerate intelligence".

Because amethyst was believed to encourage celibacy and symbolize piety, it was very important in the ornamentation of churches in the middle ages. Amethyst is still the stone of bishops' who often wear amethyst rings. Even in Tibet, amethyst is considered sacred to the Buddha.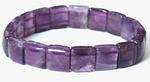 Benefits
Amethyst's sobering and calming qualities is why it's considered to have the power to purify and bring peace. It's also believed to boost lower energies higher, and heal at all levels of mind, body and spirit. Amethyst is especially useful to calm overworked minds as it brings mental strength, stability, and vigor, and reduces negativity.
Amethyst also supports all that is transitional. Especially death and rebirth - providing peace of mind when a loved one is lost. As an elixir, amethyst can help toothache, bone and joint discomforts and problems with the stomach and digestion. It has also been known taken for blood disease and balance blood sugar.



In yoga, amethyst aids the 6th Chakra, the Third Eye, center of the body's spiritual power. Because amethyst heightens awareness, both spiritual and psychic - increasing intuition and psychic development and transition from a normal state of consciousness to a deeper awareness.



Amethyst Jewelry Design
Amethyst jewelry sells well because it has never gone out of fashion. In fact new-agers have made it more popular than ever. It's dark royal color oozes style. Amethyst goes well with silver, clear crystal and other subtle colors. If you make hand-crafted jewelry; design matching necklaces, bracelets, and earrings to offer more choice to your customers. Don't overpower your design with too much of the gemstone - add lots of silver spacers and findings to balance.
to top
To see our amethyst beads click MrBead.com or MrBead.co.uk
How to make an Amethyst Necklace
These are the steps of MiMi making an amethyst necklace using our amethyst nuggets and fancy drop beads (numbers are as pictures).
Note the crystal rondell beads and gold stardust used as spacers.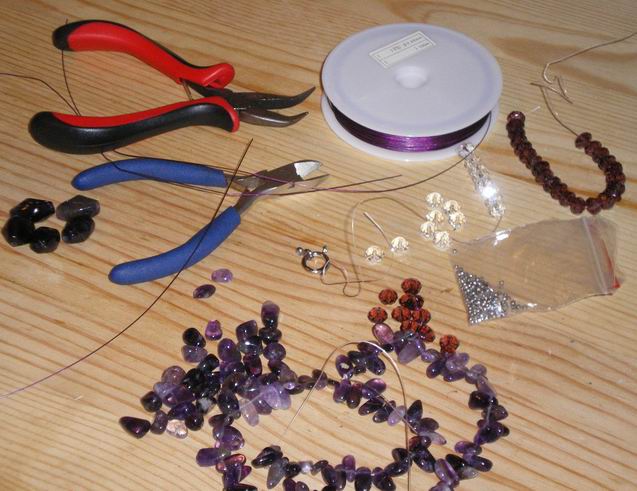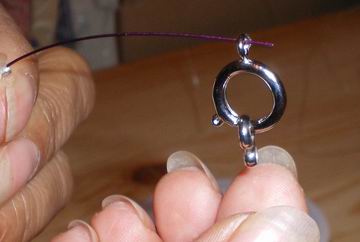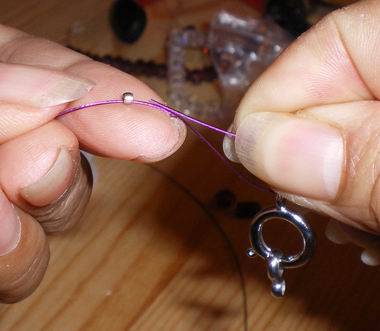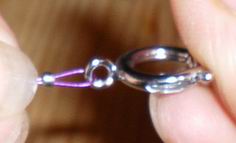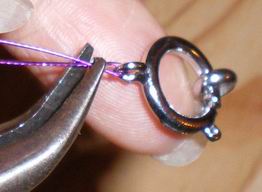 1) Get all materials ready: nylon wire, crimping beads & 5mm stardust gold spacers, crystal rondell beads, crimping pliers, wire cutter,
catches, all beads.
2) Slide 2mm crimp bead onto wire and insert wire into eye on clasp
3) Loop and connect crimp bead.
4 & 5) Crimp attached to eye on clasp, and squeezing crimp bead closed.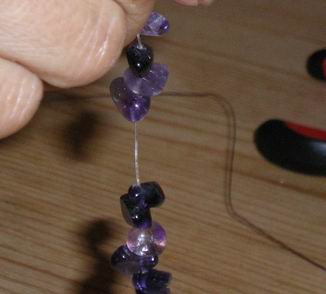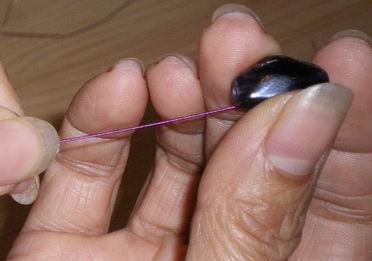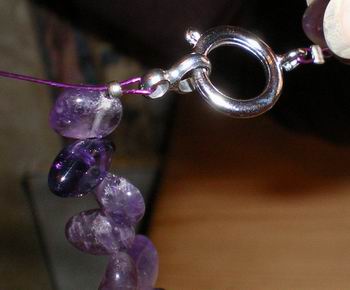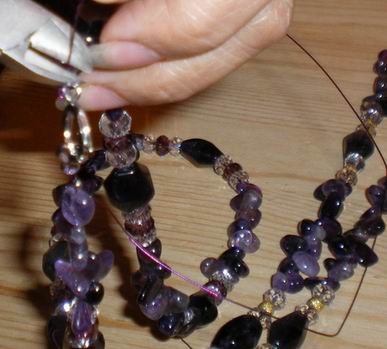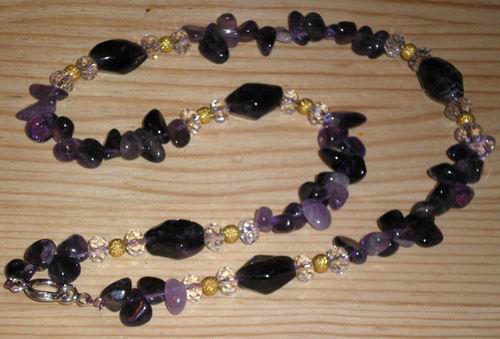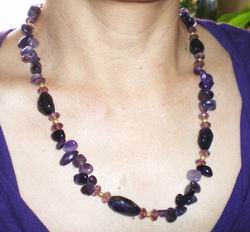 6 & 7) Thread the beads into the wire.
8) Repeat steps 2 to 5 to secure the other end of the necklace.
9) Cutting off excess wire
10) Finished.
Free Shipping!

For free shipping with no minimum order, key the code "amethyst" in the box at checkout (without the commas), and click "redeem coupon".
NOTE: Offer ends Thursday 2nd February 2012, so Act NOW! to top
For MrBead.com, MrBead.co.uk, or AwesomeRings.com only (not eBay or our MarketWorks stores)

This article comes from the new book How to Make a Killing Selling Bead Jewelry - see below offer: to top
How to Make a Killing Selling Bead Jewelry - eBook
"Ultimate guide revealing proven steps to successfully sell beaded jewelry"
At the present time, everyone is looking for extra income. If you would like to sell more of your hand-crafted jewelry, or perhaps you haven't taken the plunge selling yet, this book is for you. Choose from British English version or US version.
A total of 169 jam-packed pages of the latest jewelry selling secrets
Everything you ever wanted to know profiting from handcrafted beaded jewelry
How to source at the lowest prices
See your income soar from new profit sources
Instant results!
Dynamic growth potential
Comes with free bonus books of Gemstone Properties and Guide to Cashing in on eBay.
MrBead newsletter readers can purchase our new just-published book at a 33% discount. NOTE: ignore the price on the sales page - click the Buy Now button and you will see your 33% discount at the Paypal checkout ($19.99 or £12.99). Paypal only for this offer. On Paypal's confirmation of payment page, click "IMPORTANT: click here to download your product". You will also be e-mailed your download URL.
This e-book is sold to you with 100% satisfaction - otherwise you get a full refund within 60 days! Click either the picture of the US or UK version below for details: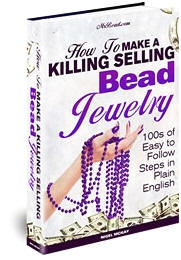 US Version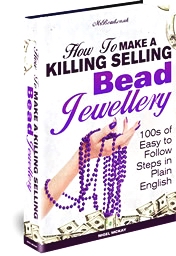 UK British English Version

Enter your e-mail address to receive our next monthly newsletter!

Subscribe Unsubscribe