Diamonds - April's Stone + E & Traveling Jewelry Parties
You have received this newsletter because you opted after a past purchase, but should you wish to be taken off the mailing list, just click the link at the bottom. This month's theme is April's birthstone diamond + E & traveling jewelry parties & Mother's Day . Scroll down, or click one of the links below on the html version to go to a certain section. If you have any suggestions for the future, please e-mail me at suggestions@mrbead.com. To go to the MrBead store click here

If you weren't mailed this newsletter enter your e-mail address here to receive next month's newsletter.
Diamonds - April's Gemstone
Man-made Diamonds
Cubic Zirconia
Traveling Jewelry Parties
How to organize an E-Party online
Mother's Day Beads
Special Offer
Diamonds- April's Gemstone





April's birthstone is the diamond. Diamonds are a wonder of nature. Their cold sparkling fire has held us spell-bound for centuries with myths of romance, power, greed, and magic. Ancient Hindus, finding diamonds washed out of the ground after thunderstorms, believed they were created by lightning bolts. Today, the diamond is a symbol of enduring love.

Diamonds are the rich cousins of graphite, both crystalline forms of pure carbon. The enormous difference in their properties is a result of the way that carbon atoms are bonded together. In graphite, carbon atoms are arranged in sheets that easily slide past each other, making them ideal as lubricants. Diamond crystals, are a tight-fisted network of carbon atoms securely held in four directions, making it the hardest naturally-occurring substance. to top


Up until a few years ago De Beers controlled all the worlds' diamonds - by stockpiling tons at a time, they greatly increased the value of a relatively-common crystallized rock. However, it is now possible to artificially grow diamonds, the same way they are formed over millions of years. Using high-pressure and high-temperature in crystal growth chambers, the size of a washing machine. Within each chamber, a tiny sliver of natural diamond is bathed in a molten solution of graphite and a metal-based catalyst at approximately 1,500 °C. Slowly, carbon precipitates onto the diamond seed crystal. A gem-quality, 2.8-carat rough yellow diamond grows in just under three-and-a-half days. This can then be cut and polished to give a gem larger than 1.5 carats. (One-half carat is equal to 100 mg of diamond – about the size of a kernel of corn.).

To say these "cultured" stones are not real diamond is false. Chemically they are identical to mined diamonds, but they do have different growth patterns and a lack of inclusions that would draw suspicions to a qualified a jeweler. However, those bits of minerals that are enclosed in a natural diamond as its forms are regarded as flaws; a lack of inclusions is actually a good thing. For a jeweler to tell for sure, De Beers has designed a machine for around $10,000.

Cubic Zirconia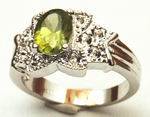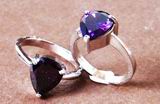 A much cheaper way of making a stone that "looks" like diamond was created by Russian scientists. Cubic Zirconia is a dense clear material through which laser light can be reflected. When melted at high-temperature and an incredibly-high electrical current sent through it, the compound crystallizes, forming chunks similar to rough diamonds, which are then be cut and polished to exact specifications. Using the naked eye, even a trained jeweler can't detect the difference between good cubic zirconia, genuine or cultured diamonds. And even diamond experts have been fooled between cubic zirconia and a five-million-dollar diamond - concluding that both were fakes! All are fully faceted, cut and polished the same. to top

To see our cubic zirconia rings click here
Traveling Jewelry Parties




Consider taking a jewelry home party on the road to people's workplaces. Find an employee who is able to get permission to act as your host/hostess and spread the word about your lunch-hour or breaktime jewelry show. Of course this person gets free/discounted jewelry. Obviously best results are just after that company's payday. Under-$25 items will probably be among your most popular items here, so be sure to have a good selection of them. Count on mainly cash-and-carry goods, and gift wrap everything for free.
Excellent places for a traveling party like this are schools, selling to teachers and staff - the lobby of large business complexes or hospitals, active retirement communities, and men's workplaces such as oil & lube shops. Don't forget that obtaining permission from whoever is in charge is the key not only to having a successful show of this type, but also to being welcome again for another show. to top
How to organize an E-Party online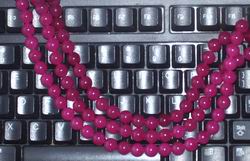 A jewelry e-party is a new concept that makes beautiful use of technology. It's an online jewelry home party that enables the hostess to invite guests from anywhere in world to shop on your website for her party!
An e-party requires very little time on your part, and you can hold several parties at once. You don't go anywhere or set up any display – all you need is a website. It's an easy way to make great jewelry sales, build your e-mail customer list, and get your website known to targeted online buyers who trust you since they were referred to you by someone they know.
You can also combine a jewelry e-party with a regular party for people who can't attend or live out of town. These guests who can't attend the physical party, can shop on your website and submit the hostess's party code when they order. They can order any time of day or night at their convenience till the e-party closes.
To offer jewelry e-parties you need an inventory control system on your website that allows you to sell only one of any unique jewelry you have made. Many online stores do this, we use Miva hosted by NetNation (http://www.netnation.com) - a simpler alternative is offered by Biz Hosting at http://www.bizhosting.com. A shop with up to 250 products costs around US$22 a month. They also allow you to offer coupons, codes, and gift certificates that make online jewelry parties easier and more successful. Plus a secure checkout that adds shipping and e-mails your customer automatically. If all this sounds too difficult for you, second-best is an eBay store or add a Paypal checkout to your website.
Here's how an online jewelry party works:
1. The hostess will register with you to hold an e-party, providing you with her name and e-mail address, and the opening and closing dates she prefers for her e-party. Online parties should last for 7, 10, or 14 days to give all guests a chance to sit down at their computer and shop.
2. You e-mail her the text for the party invitation, which she then e-mails to everyone she wants to invite to shop at her online party. This invitation contains a link to your website, for them to click on to start shopping. It also asks each shopper to enter the hostess's name in the message area of your shopping cart when they check out. The e-party's opening and closing dates are also included in this letter. The hostess can invite more guests or send reminder invitations all the way up till the e-party ends.
3. When the party ends, you e-mail the hostess with her guest totals, and her certificate for free / discounted jewelry earned. Depending on how your website shopping cart is set up, you can either give her a special coupon code to use for her discount when she checks out with her purchases at your site, or you can process her order manually.
4. You ship each customer's order directly to them. Free shipping is an incentive you can offer to guests who order over a certain dollar amount. In each customer's package, add your business card, an enticing flyer for hosting a jewelry e-party, and some kind of small freebie to make them want to shop with you again. to top
The earliest mention of Mother's Day goes back to spring celebrations of ancient Greece in honor of Rhea, the Mother of the Gods. During the 1600's, England celebrated "Mothering Sunday" on the 4th Sunday of Lent (the 40 day period leading up to Easter). Then, many of the England's poor worked as servants for the wealthy. As most were employed far from their homes, the servants would live at the houses of their employers. On Mothering Sunday the servants had the day off and encouraged to return home and spend the day with their mothers.
In the United States Mother's Day was first suggested in 1872 by Julia Ward Howe as a day dedicated to peace. Then in 1914, Ana Jarvis from Philadelphia, with the help of the church, managed to persuade President Woodrow Wilson to make the second Sunday of May a national holiday in honor of the anniversary of her mother's death.
However, many countries celebrate Mother's Day at different times throughout the year - but Denmark, Finland, Italy, Turkey, Australia, and Belgium also celebrate Mother's Day on the second Sunday of May.
What would mother like on her special day? Beads of course! Make a special necklace or bracelet as a gift for your mother and mother-in-law this year – or purchase one already made. Jewelry is always appreciated, and gains sentimental value with age allowing Mother to always remember who it came from. Pearls are great! to top

See our ready-made Necklaces - makes a great present!: click here
Bracelets: click here Our Pearls here

To see our cubic zirconia rings click here
Special 10% Offer !

Sample our beads with 10% off any order from our MrBead bead store, just key in "march" at the checkout (without the inverted commas) and click "Redeem Coupon".
Offer valid until 8th April only - so act now! Only for use in our store at the checkout and not valid with any other offers.
To go to our MrBead store click http://www.mrbead.com

To Top of Page
To return to the top of this page click here