What's New, Chrysoprase, Leftover Beads & Free Shipping

To go to the MrBead store click MrBead.com or MrBead.co.uk

Click a picture below to see one of this month's new beads. To receive free shipping enter "greenbeads" (without the commas) in the box at checkout, and click "Redeem Coupon". Use NOW - as expires Thursday 11th August 2011.

No minimum order, but can only for used at MrBead.com or MrBead.co.uk and cannot be used with any other discount or eBay.
See us in the UK during September and October - for dates click here.
For all What's New click MrBead.com or MrBead.co.uk
top of page
How to use your Leftover Beads -
Don't throw anything away!

Every beader is eventually left with out-of-fashion beads that they can't use. You could try selling them at a fair in a bargain box, but in all probability, they'll be hard to shift. Strangely, people can sense if the stock is stale. In these financially-tough times, you need to consume everything. Fortunately it is possible to use these odd beads to make jewelry that will sell.
Don't be afraid to disassemble old jewelry. Unstring the beads and mix them with new beads in a different design.
<![if !supportLineBreakNewLine]>
<![endif]> What to do with the Leftovers
<![if !supportLists]> 1) <![endif]> Separate all your leftover beads into three different sizes and place each size in its own cup.
<![if !supportLists]> 2) <![endif]> Take any bead at random from one of the cups and lay it out for a necklace on your beading board.
<![if !supportLists]> 3) <![endif]> Then add a bead from a different size cup, and so on. If the beads are small, add a few, before a large bead – to build uniformity to the design.
<![if !supportLists]> 4) <![endif]> After you've laid out half the necklace length, look at the design and see where you can add spacers or caps to improve the style.
In a short time, you'll end up with an original freeform necklace!
Bead tablecloth weights
Table cloth weights make great presents, especially for summer BBQs. Take a silver bulldog clip and thread wire through the hole. Loop it back on itself, and slide a crimp over both pieces, pulling it tight to the clip. Squash the crimp flat to hold the wire in place. Thread beads onto both strands of wire and finish with a crimp to hold the beads in place. The weights are then clipped onto the corner of a tablecloth to prevent the wind from blowing it off.
Chrysoprase & Chrysocolla – The Golden Leeks



The name chrysoprase (rhymes with bliss and craze) is from a Greek word meaning Golden Leek. It is the rarest of the chalcedony group of gem quartzes and its bright even color and texture is ideal for beads. Chrysoprase was popular in the time of the Greeks and Romans when it was cut into cameos - the Egyptians used it with lapis jewelry and even to decorate beads. In Europe until the middle of the last century it was used lavishly, when deposits mined in Silesia exhausted and it became expensive. The Book of Revelations (21:20) describes the holy city of Jerusalem with its 12 walls decorated with precious gemstones, the tenth being chrysoprase.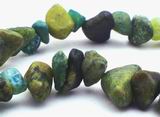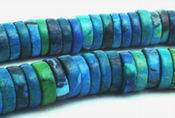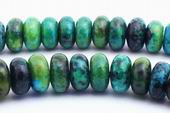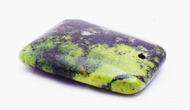 According to an 11th Century Byzantine manuscript, chrysoprase strengthens vision and relieves internal pain. Metaphysically, it brings a sense of grace, helping meditative, calmness and acceptance of oneself and others. It is believed to encourage positive outcome, helping to heal a broken heart, the heart itself, the reproductive organs, and fertility. And in the East, Chrysoprase is said to balance yin-yang and encourage the heart chakra bringing energy to the physical body.
Astrologically, chrysoprase is associated with the zodiac signs of Gemini and Cancer.




Chrysocolla is very similar to chrysoprase, but usually has more blue coloring. Both stones look great beside turquoise in a necklace or bracelet - giving a bright natural apperance.
To see all our Chrysoprase & Chrysocolla click MrBead.com or MrBead.co.uk
For all What's New click MrBead.com or MrBead.co.uk top of page
From our new book How to Make a Killing Selling Bead Jewelry - to buy at a 33% discount to listed price click: US Version or UK Version

To view all are old newsletters click here To go to our MrBead store click MrBead.com or MrBead.co.uk