What's New, Measuring Beads & Free Shipping

To go to the MrBead store click MrBead.com or MrBead.co.uk

Click a picture below to see one of this month's new beads. To receive free shipping enter "norwich" (without the commas) in the box at checkout, and click "Redeem Coupon". Use NOW - as expires Wednesday 14th September 2011.

No minimum order, but can only for used at MrBead.com or MrBead.co.uk and cannot be used with any other discount or eBay.
Ask for your Free gift & see us in the UK during September and October: for dates click here. First bead fair at Edinburgh on Sunday 25th Septemer. For those in East Anglia we have our own bead fair in Norwich on Sunday 16th October 2011: details here.
For all What's New click MrBead.com or MrBead.co.uk
top of page
See our new category - Fancy drop Beads at MrBead.com or MrBead.co.uk
Fancy drop are like nuggets, but flatter.

Buying Beads by Size
Buying beads can be very difficult – with hundreds-of-thousands of different materials, sizes, shapes, colors, and prices.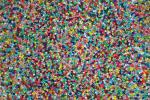 Seed beads range from size 1mm to 3mm or 11/0. The most common seed beads are Chinese, Czech, and Japanese. Czech beads are very traditional, sold on hanks, are mostly round and can be uneven. Japanese seed beads are more uniform, come in many different colors and are usually sold loose in bags or tubes. Remember that 1,000 (or even 4,000) seed beads will come in only a small bag – don't expect them larger than they are! However, these tiny beads can be very tricky to make, so are only a little cheaper than bigger beads.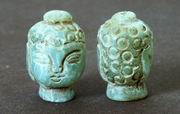 Larger beads are sold either loose or in strands. Buy strands if you want the best quality and uniformity of holes – they will hang better on a necklace. However, loose beads are great if you want a lot cheaply for a large project or for many different works. Invest in a bead measure, as the inexperienced can often overestimate bead sizes. If buying by the strand, just divide the length by the bead size to tell how many there will be. For example a (16-inch) 400mm strand will have about 50 beads of 8mm – 400 divided by 8. Beads over 14mm are considered large and can weigh a lot to post, so expect more shipping.
I often get letters telling me the 8mm beads we mailed are not 8mm. Some people say our 4mm beads look bigger on the picture. Others insist we've sent them the wrong size strand of pearls because most are smaller than we say. Size of beads can either be exact or approximate depending on the type of bead. Simple round bead sizes should be exact: 4mm, 6mm, 8mm, 10mm etc. But chip beads, being naturally all different sizes, will not be exactly the size quoted in the sale - some will be longer, but most will be shorter. Bead sellers usually quote the largest size in the strand, this is especially true with natural pearls. Under 25% of the pearls in a strand may be the full size quoted. Nuggets, again being natural, will all be different to an average size listed in the sale. Strands of beads are usually 16-inches (400mm) long. Although pearls are normally sold in 15-inch strands and chips in 32-inch strands. A Choker necklace is 16-inches long, a Princess necklace 18-inches, a Matinee necklace 24-inches, Opera necklace 32-inches, and a Mala necklace of 108-beads can be of any length! A bracelet is usually 7-inches and an anklet 9-inches. To buy the bead measure in the picture click MrBead.com or MrBead.co.uk.
How to measure your finger

1. Wrap a piece of string or paper strip around the base of your finger.

2. Mark the string or paper where it overlaps to form a complete circle.

3. Measure the length of the section of string or paper where it overlaps around the finger.

4. Compare your measurement with this chart to determine your ring size.

5. Please note: You need to take the knuckle into consideration when sizing. The base of your finger may be smaller then your knuckle. Also wider bands should be sized ½ -1 size larger.

To get your girlfriends ring size, ask to clean her rings the next time your in the mall together. Most jewelry stores will do it for free. Then you can secretly ask the sales person to check the size for you. Or you can slip her ring on your finger and mark the spot it fits. Then measure that spot with the directions above.

Ring Size

Ring Size

Measured Size

UK
USA
inches
mm
cm
H
4
1.8307"
46.5
4.65
I
4 1/2
1.8818"
47.8
4.78
J
5
1.9291"
49
4.9
K
5 1/2
1.9803"
50.3
5.03
L
6
2.0275"
51.5
5.15
M
6 1/2
2.0787"
52.8
5.28
N
7
2.1259"
54
5.4
O
7 1/2
2.1771"
55.3
5.53
P
8
2.2283"
56.6
5.66
Q
8 1/2
2.2755"
57.8
5.78
R
9
2.3267"
59.1
5.91
S
9 1/2
2.3740"
60.3
6.03
T
10
2.4251"
61.6
6.16
U
10 1/2
2.4724"
62.8
6.28
V
11
2.5236"
64.1
6.41
W
11 1/2
2.5708"
65.3
6.53
X
12
2.6220"
66.6
6.66
Y
12 1/2
2.6732"
67.9
6.79
Z
13
2.7204"
69.1
6.91
To measure a rings for its size, you need to purchase a ring measure like the below. Just slip the ring over the measure and the size is the middle line.

For all What's New click MrBead.com or MrBead.co.uk top of page
From our new book How to Make a Killing Selling Bead Jewelry - to buy at a 33% discount to listed price click: US Version or UK Version

To view all are old newsletters click here To go to our MrBead store click MrBead.com or MrBead.co.uk