Latest from MrBead with Free Shipping + Donut Beads
If you have any suggestions, please e-mail suggestions@mrbead.com. To go to the MrBead store click here

Click a picture below to see one of this month's new beads. To receive free shipping enter "freeship10" (without the commas) in the box at checkout, and click "Redeem Coupon". Use NOW - as expires Saturday 22nd 2007. The more you spend, the more you save! Only for use at MrBead.com and cannot be used with any other discount or eBay.
If you weren't mailed this offer enter your e-mail address here to receive next month's newsletter.
Donut beads are great as a focal to focus attention on a necklace, they also look good used for matching earrings too. With a little imagination you can even make them into a bracelet. If you want to hide the wire running through the middle of the donut hole, donít use a wire at all - link the donut bead by using head pins. Just insert a head pin into each of the bead holes from the inner edge and then loop the ends poking out on the outer edge.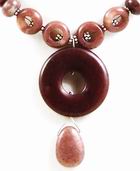 Similarly, you could also hang a briolette from a donut bead like the necklace shown left. First, thread a briolette onto a piece of rigid wire and bring the ends together like you normally would when you are making a briolette drop. Next, insert the wire ends through one of the bead holes from the outside edge into the donut hole, and then cut off the extra wire, leaving about a quarter of an inch. Finally, fold the leftover wire and create a nub so that the drop wonít slip out of the donut bead. Frame beads can also be used to the same effect, and smaller donut beads can be strung together making a spectacular necklace.
To see our Donut Beads key the word donut in our search on the front page here
To see all our Frame Beads click here
To see more What's New click here
To view all are old newsletters click here To go to our MrBead store click here