Glass, Coral, & Opal Beads
This month's theme is Glass Beads, Coral and October's stone Opal. Scroll down, or click a link below. If you have any suggestions for the future, please e-mail me at suggestions@mrbead.com.

If you weren't mailed this newsletter enter your e-mail address here to receive next month's newsletter.

Glass Beads
Coral - A Living Gemstone
Opal - October's Birthstone
Glass Beads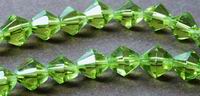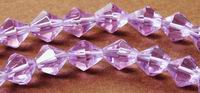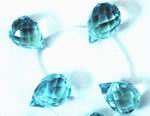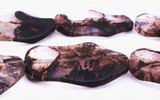 Glass beads are very popular for necklaces, bracelets, anklets, piercing and tiaras. Glass is a cheaper alternative to crystal and more available, plus there are also many more shapes, styles and colors in glass beads. These shapes can range from simple designs for example spheres, teardrops and leaves to original and obscure designs that can be indescribable.


Glass beads can be in primary colors like red and green, as well as clear to more sparkling colors of aqua, magenta and rose. Many are multicolored with a blow effect as can occur on glass vases and beakers. Glass beads, especially when making jewelry items can be mixed with other beads on the thread. The mixture depends on their use. A formal necklace may incorporate a few crystal beads threaded with the glass beads to give an impression of expense and class. However, a more casual look may prefer to incorporate shells or seed beads instead.

Most glass beads are made out of matt glass, dichroic glass and lamp worked glass. These regular forms of glass beads are relatively cheap to purchase. Glass beads are available from specific suppliers located in shopping malls and internet shops. The beads can usually be purchased individually, however the cost of the beads tends to fall the more beads that are purchased.
Glass beads can also be found in rare forms of vintage glass. These glass beads are usually from Germany, Japan, Italy and Czechoslovakia. These vintage beads are usually hand made and therefore more expansive and are common purchases for collectors or customers requiring a rare piece of jewelry to be made. Glass beads, as with many other beads are usually purchased ready holed and are thread onto either cotton or nylon threads.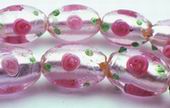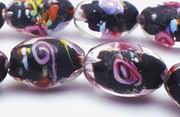 "Lampwork" means glass that is formed and decorated in a torch flame hot enough to melt the glass. The "lamp" in lampwork came from the oil lamps and blowpipes originally used in seventeenth century France and Italy. Blowing by mouth or with a bellows into an oil lamp flame with a small pipe makes just enough heat to soften and form the softer types of glass. I'm always amazed at what great work the early lampworkers were able to do with such a minimal amount of equipment.

Today lampworking is usually done with a fuel gas and oxygen torch and a few hand tools. The tricks and moves used to form and decorate the glass haven't changed much in Millenniums. Hot glassworking skills came to us from a long history starting with the Syrians around 1700 BC, the Egyptians around 1450 BC, the Chinese around 550 BC, the Romans at the turn of the first millennium, and with the French, German, Italian, Indian and Islamic folks bringing us up to the present.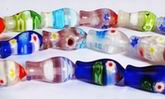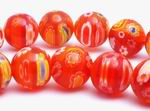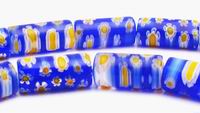 Another type of glass bead has colors creatively formed inside: Millefiori, which translates from Italian to "a thousand flowers". Traditionally, each bead was handmade under the flame, using glass rods to produce a colorful mosaic effect. They were first crafted in Venice as far back as the 15th century, but it was not until the 1920s that they were produced in quantity.



First glass rods are made like candy rock with multiple colors throughout. The colors at this stage are only viewable from the cut ends. The bead maker then cuts thin slices off while the glass is still hot and press them down to form mosaic patterns.
This labor intensive process attracted a high price for the beads. However today, the millefiori technique has been applied to polymer clays which are pliable and do not need to be heated and reheated in order to fuse. This makes it much easier to produce millefiori patterns than with glass. There are hundreds of thousands of different designs of Millefiori beads, making them great to collect. top of page

To see our Glass Beads click here
To see our Lampwork Beads click here
For our Millefioro beads click here

Coral - A LivingGemstone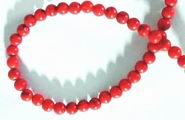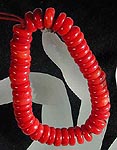 Coral is a natural water-related bead that will sex-up your summer jewelry. Many coral beads are quite rustic with the original shape of the coral branches. Perfect for creating jewelry that has a very ethnic style. But since they are also porous and soft, they can be color enhanced and carved into lovely shapes, allowing them to fit in nicely in higher-end designs too.
Coral is not a true gemstone, but a product of marine life. However, it's been used as a gem since prehistoric times. Coral has a religious history, like being one of the seven treasures in Buddhist scriptures - and has long been a strong talisman protecting against evil spirits and hurricanes. It is also said to reduce blood flow, help anemia, and is thought to give wisdom and prevent madness!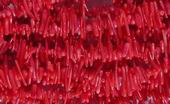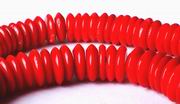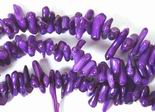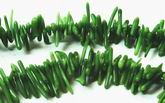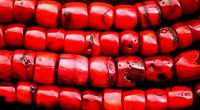 Coral is essentially the outer skeleton of sea polyps, made of calcium carbonate. Coral usually ranges from white to red, and it grows in branches that look like underwater trees. Red, pink, and white corals are usually dense, while sponge and blue corals have small air pockets and interesting spotted patterns. Most coral for jewelry comes from the Mediterranean or the China Sea off Japan and Taiwan. Coral reefs in the South Pacific like the Great Barrier Reef grow a different species.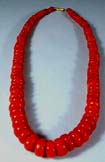 The price of coral remains low only because of stockpiles from up to 30-years ago. However, due to over-harvesting and environmental damage, coral is becoming rarer, and natural red coral is very expensive. Most red coral sold today has been dyed. It's quite easy to tell this on bold red coral beads, but the pink and blue corals are often color enhanced as well.
Fossil coral, or agatized coral, is an alternative to coral if you like your beads to be more subtle. This is ancient coral that has been replaced by agate so slowly that the flower-like patterns of the original coral remained intact. Though it will not make a bold statement like the red corals, fossil corals have their own charm. They are mostly beige; but the grayish flower patterns may have subtle hints of pink, blue, and other colors. top of page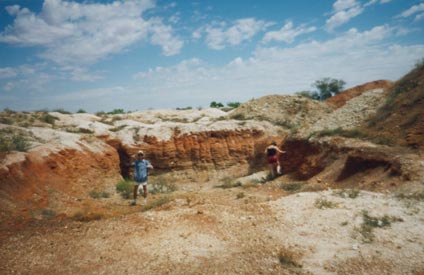 Opal: October's Gemstone
What is Opal?
All of Nature's fury can be seen in fine opal. Like a Rembrandt: fire, lightning, all the colors of the rainbow and the shine of far seas. Australia supplies about 95% of the world's opal from the outback. Aborigines there believe their creator came down to Earth on a rainbow to bring the message of peace to all humans. And at the spot where his foot touched the ground, opal was born.




The name Opal could have came from many places. In Greek "opallios", translates as "color change", and to the ancient Romans "opalus", was a stone from several elements. Pliny, a Roman author, wrote that opal combines the sparkle of Almandine, the shining purple of Amethyst, the golden yellow of Topaz, and the deep blue of Sapphire.

Types of Opal




return to top
Fine opals shine and sparkle in a continually changing play of colors called "opalising". Depending on the rock and location they have names like Harlequin, Peacock, Mexican, and Fire Opal. Most opal has this play of colors except "Common Opal", a name give to all others, like Pink Opal. Because demand outstrips supply, fine opalizing opal is very very expensive, so is sold in individual beads for hundreds of US dollars each. Therefore, the type of opal common in necklaces is non-opalizing opal – usually pink opal from Peru (more below).

Opal's fantasy-like play of color is caused by small spheres of silica creating interference and refraction manifestations. The spheres, which are arranged in compact structures, dissect light through the gemstone, turning it into the rainbow effect, always new and different. return to top

How to Value Opal






The most important criterion for determining the price of fine opal is the play of color, the colors themselves and their pattern. If red appears when looking through the stone, all the other colors will also. Value also depends on body color, transparency, and original location. Body color can be black, dark or light, or colored. Black Opal or a dark grey body has the most brilliant play of color. Black Opal from Lightning Ridge or Mexican Fire Opal is the best. Crystal opal, is the next best, and should be more transparent with a deep play of color. White or milky opals show more diffuse color and are the cheapest.

To best bring out the play of color in a fine opal, the stones are cut and polished to round or oval cabochons, or any other softly domed shape. Only the best qualities of Fire Opal are suited to faceting. The opal cutter removes any impurities using a diamond cutting wheel, before working out the rough basic shape, fine cutting, and finishing with sandpaper and polishing with a wet leather wheel.

How does Opal Effect You?
Opal is thought to solve depression and to help its wearer find true love. Opals are supposed to enhance the positive characteristics for people born under the sign of Cancer. With Black Opal recommended to Scorpios and Boulder Opal for Aries. The opalizing effect reflects changing emotions and moods of people. People prefer different opals for different moods. Opals are like human emotions: each type creates different feelings. return to top
Peruvian Opal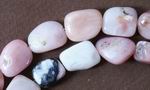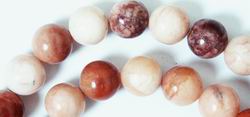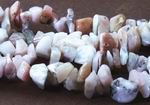 Peruvian Opal comes in faint pink, light blue and light mint-green tones. From the Andes Mountains near San Patricio, Peru, just like the name implies. Although native South Americans have been using the stone for more than a thousand years, it only became widely available commercially within the last decade or so. It is usually translucent to opaque with no play of color and often has lots of black and tan dendrites. Most Peruvian Opal beads are semi-opaque to opaque. Peruvian opal's metaphysical properties are similar to other opals. Helping to intensify your traits and characteristics and deepening your personal understanding. Peruvian Opal in particular is used to activate the heart charka and to assist you during spiritual journeys.
Looking after Opal




Due to 2 to 6% water, opals easily become brittle and if stored too dry or exposed to heat over a longer period of time, they will show fissures and the play of color will fade. Therefore, Opal jewelry should be worn as often as possible, for then the gemstone will receive the needed humidity from the air and from the skin of its wearer. In earlier days opal's sensitive surface was oiled, but today they are sealed with clear resin.

To buy our Pink Peruvian Opal Nugget Beads click here return to top

Special 15% Offer !
Sample our beads with 15% discount in our MrBead bead store, just key in "glass" at the checkout (without the inverted commas) and click "Redeem Coupon".
Offer valid until Thursday October 4th - so act now! Only for use in our MrBead store at the checkout and not valid with any other offers.

To go to our bead store click www.MrBead.com
To return to the top of this page click here