Shamballa Beads – The hottest hip hop accessory of the year & the next bead craze!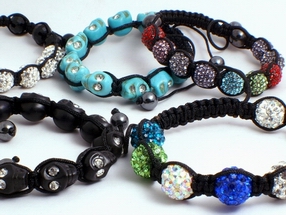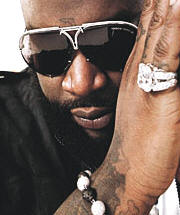 Shamballa jewelry is spiritual fashion, made from Tibetan Buddhist-inspired beads worn by all the big rap and hip hop artists. Their 'spiritual vibe' reminds the mind and body of its natural ability to open and heal, bringing a feeling of well being. Also spelled Shambhala, a mythical kingdom in ancient Tibet where all the inhabitants have reached enlightment. Old Tibetan medical texts say it is also the dharma chakra, located in the heart of all living beings - symbol for the trinity of body, speech, and mind. Similar to the effect hip hop music has on the soul.
The jewelry is hand-made from semi-precious stone beads strung on macramé braided cord, and can cost as much as US$30,000 for a single bracelet. This price would buy an exclusive design with diamonds and stone beads set in 18-carat gold – for wealthy ex-or would-be hippies. Mads Kornerup was the first to sell expensive shamballa jewelry in Paris in 1994, followed shortly by another store in Soho, New York. Now this beaded jewelry is sold from Switzerland to Russia, to top London stores like Harrods, Frosts, and Tresor Paris.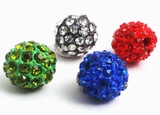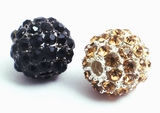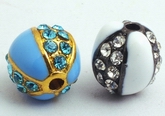 King Ice, Lil Wayne, Wiz Khalifa, TI, P Diddy, Dr. Dre, Nelly, and Busta Rhymes, are among many artists appearing on magazine covers and music videos sporting these Buddhist disco ball beads. King Ice's shamballa bracelets are made from nylon string with a traditional macramé manual toggle fastener. The beads are made from plastic and a base metal with either cubic zirconia stones or hematite diamonds. He raps with shamballa inspired disco ball bead necklaces too.
However, shamballa beads are more than just jewelry inspired from traditional Tibetan Buddhism. Individual meanings can be expressed by their style, color and shape. And not only hip hop artists wear these beads for their own beliefs – other celebrities like basketball stars, Michael Jordan and Lamar Odom, and ladies like Demi Moore, Heidi Klum and Beyonce also dance with the bracelets.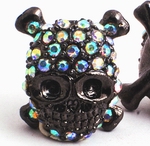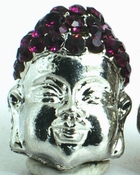 These stunning and stylish beads are a unique mix between jewelry and spirituality. Today's turmoil brings no better time to get in touch with hip hop fashion and your inner self. Express your individuality and spiritual needs by designing your own unique shamballa bracelet and matching necklace. Create a mystical effect using skull and Buddhist beads with sparkling crystal beads to add bling.
Link on how to make a shamballa bracelet: http://www.instructables.com/answers/Can-someone-please-put-up-instructions-for-how-to-/ (copy & paste this URL if it's not active).
To buy these Shamballa Beads go to MrBead.com or MrBead.co.uk