Christmas Beads & Great Present Ideas

If you weren't mailed this newsletter enter your e-mail address here to receive next month's newsletter.
Please order early for Christmas! Allow at least two-weeks to reach you in the Xmas rush. Orders received after 15th December may be delayed. Last wholesale order this year will be 10th December. MrBead store MrBead.com or MrBead.co.uk
Christmas Beads
Christmas Present Ideas





Beads make great presents. They are small and light, so being easily mailed or tucked in a stocking.. They are also personal, and a necklace or bracelet worn often is hard to forget who gave it. You can even hang them on the Christmas tree. Christmas is the peak retail season too, so don't be left out if you're a seller: Get Listing! It will pay to make as many quality necklaces and bracelets as you can – both to sell and to give away as Xmas gifts.
Turquoise is the gemstone for December, but pearls also make an ideal Christmas present, appreciated by all. Both gemstones have such an air of quality; all recipients will love you for ever. For quality, pearls and silver together, speak sophistication - a small bracelet may be all you need. Necklaces in a nice presentation box are nice too. A matching necklace and erring set is good as well. And all are easy to gift-wrap. If you buy ready made jewelry online, get your supplier to mail your present direct in December – saving you both time and money. To read our site telling you all about pearls and how to make a pearl necklace click to top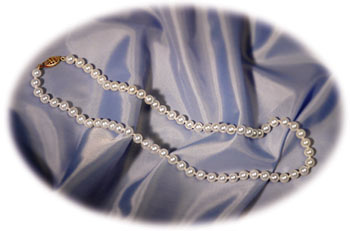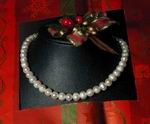 Christmas Present Ideas - Click a link for details: For MrBead shop click here
For the meanings and properties of gemstones click here (there is a link from here to each stone in our store)

Don't know what Present to Buy? Gift Vouchers make a Great Christmas Gift!
To purchase any of our MrBead gift vouches at an $8 discount click here
Xmas Gift - Pearl & Earrings Necklace Box Set - Click here - only $16, or in our UK shop £7.99 click here.
We can also mail gift-wrapped anywhere in the world!

To go to our MrBead store click MrBead.com
To go to our UK bead shop in pounds click MrBead.co.uk


To return to the top of this page click here